DOUBLE YOUR ORDER OFFER EXTENDED THROUGH THANKSGIVING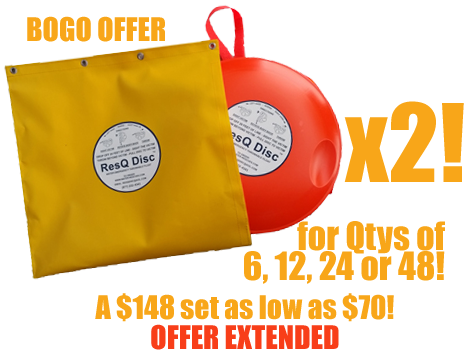 IF YOU NEED TO USE A PO#, Email us the # at resqdisc@aol.com or call us at 619-829-1678 and mention the DOUBLE YOUR ORDER OFFER. Otherwise, order below ASAP
This is a limited time offer, so please PASS THIS INFORMATION ON TO ALL YOUR FIRST RESPONDERS OR FIREFIGHTERS OR SEARCH AND RESCUE FRIENDS, BOATING CLUBS, US POWER SQUADRON, USCG AUXILLARY FLOTILLAS, USACE LAKE AND DAM MANAGERS, FEMA COORDINATORS, ETC.
WE SHARE THE SAME MISSION " SAVE A LIFE".
SINCERELY,

TOM SYTKO
INVENTOR RESQ DISC™ / PRESIDENT, SAVE A LIFE™
This is only available through THIS PAGE… You will not find this on Amazon… You will not find this on our main order page. This is it… you are in the right place.
Select your purchase option below to receive DOUBLE your order at the same price
with Flat Rate Shipping of $30 on any quantity and no sales tax.
***You do NOT have to have a paypal account.
Simply click the "Pay with Debit or Credit Card" Option.***