The ResQ Disc™ is a throwable frisbee-like device used to save the lives of victims trapped in swift or deep waters, ice covered lakes and ponds or other dangerous situations where the rescuer can stay safely ashore or aboard while performing the rescue. Here are some specifications and features…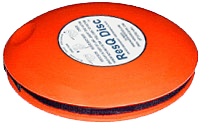 Approx. 12″ in diameter
Approx. 2″ thick
100 ft of bright yellow polypropelyne rope
Bright safety orange color for easy visibility
Velcro strap on end of rope both for closure and storage AND to wrap on wrist or waist during deployment
Easy and rapid deployment (less than 60 seconds)
Holds up to 500 lbs.