PORT ST. LUCIE, Fla. —
(as reported by ABC Channel 25 WPBF News, Port St. Lucie)
A tow truck driver who was struggling in the water and nearly drowned, showed up at the Port St. Lucie Police Department Wednesday morning to thank the officers who saved him.
According to police, Danny Hahn, who works with the towing company called Tow Master, was trying to find a car that crashed into a pond Tuesday near W St. James Boulevard and NW Helmsdale Way when he started to struggle.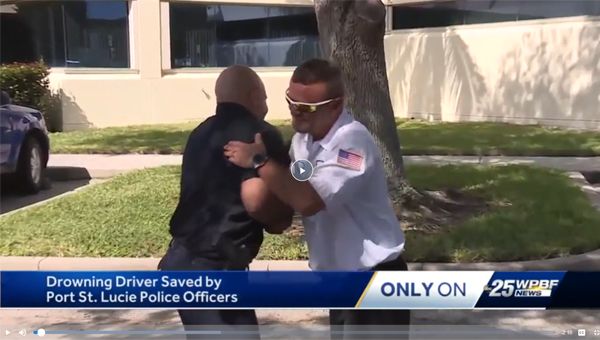 Officers Courtney Druga and Al Corona said Hahn was unable to swim back and yelled for help.
"He was doing OK but then he got to a spot, like we said, he wasn't progressing anymore," Corona said. "Then realized oh my gosh he's having a hard time."
Druga ran to get her Res-Q Disc, which is a rope attached to a plastic like frisbee, to throw to Hahn for him to hang on too.
Corona took off his vest and gun belt and jumped into the water to help.
"We threw it out to him, as Danny would try to grab it, it kept floating away," Druga said. "Every time his hand would brush it."
Corona said he was able to get the disc closer to Hahn.
"He grabbed it and Courtney pulled us in like we were hooked up to a jet ski," Corona said.
Hahn said his boots and clothes got heavy and he couldn't swim anymore.
"Thank goodness they both got me in and I'm thankful they did," Hahn said.
The owner of the towing company, Mary Ricks, also showed up at the police department to personally thank the officers.
"It's very difficult. Every day my husband goes out just like you guys, involved in many types of situations and recovery and things like that," Ricks said. "I just wanted to say thank you very much."
Hahn said he was transported to a nearby hospital for observation and soon after he was released he was back on the job.
"This is what I love to do," Hahn said. "That happened but I was alright and I was right back to work."